The escalating costs of a University education and the fact that one size does not fit all leaves young school leavers with difficult decisions. However, an apprenticeship offers an alternative approach with the opportunity to learn in a much more hands-on manner and get paid too! For employers, an apprenticeship is an opportunity to support someone at the start of their career and can be an effective way to recruit future team members.
At Spicerack, we are keen supporters of apprenticeships and have had three very successful apprentices join us over the past five years. In line with our ethos of continuous improvement and learning, we've been reflecting on what can make an apprenticeship successful as we plan to welcome a new apprentice to the team in 2022. As part of this process, we asked Shannon and Euan, previous apprentices and now full-time team members, to share their advice. We also spoke to Teresa Bridgman and Sue Hayes from Bridgwater & Taunton College, who oversaw Shannon's apprenticeship.
Advice for Businesses thinking of taking on an apprentice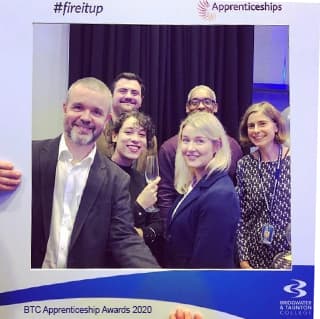 Sue Hayes – Bridgwater & Taunton College
Employer to be able to offer a wide range of tasks/activities to give the apprentice a varied experience.

Employer to be fully involved in the whole length of the apprenticeship and have a good awareness of the course content.

Employer involvement in the review process is vital.

Employers to have a designated mentor who can support the apprentice and is an expert in the occupational area of the apprenticeship.

Employer to work closely with the Training Provider throughout the recruitment process to ensure the chosen apprentice is at the right level for the role and the course.
Justin Boynton – MD Spicerack
Work with a respected specialist provider – preferably a college or other established education provider.

Ensure you have the time, passion, and experienced team members to give your apprentice the best start to their career.

Involve apprentices in areas not directly related to their role/training – you might be surprised and inspired by the insight and ideas you get back.

Create a safe and supportive environment for your apprentice to develop and grow.
Advice for Apprentices thinking of taking on an apprenticeship
Shannon – Junior Designer
"My advice would be to make sure that you get organised! If you're thinking about starting an apprenticeship, remember that it's full-time employment as well as studying for a qualification, it may be quite different from what you're used to – so learning ways to manage your time will be highly beneficial. Research always helps. If you've found an apprenticeship you like the 
look of, and you've decided to apply, researching the job role, and the company will help you. Looking at the job role will help you understand 
what you will be doing on a day-to-day basis while researching the company will give you a wider perspective on their values, culture, and typical behaviour."
Euan – Full Stack Developer
"Thinking about interviewing for an apprenticeship, checking out past projects they've worked on, seeing if any of them are particularly interesting or complicated, so you have something to talk about with whoever's interviewing you. Also, check for an about us section to see if you can find out what the person you'll be talking to does."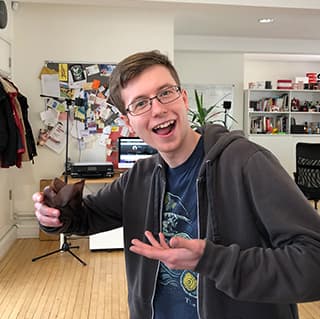 What made Shannon's apprenticeship work so well? 
Teresa Bridgman – Bridgwater & Taunton College
Spicerack takes great pride in creating exceptional learning opportunities through the apprenticeship programme, and they are keen to promote apprenticeships as an exciting and valuable alternative to mainstream creative education. Spicerack were very supportive during Shannon's Level 3 Junior Content Producer Apprenticeship apprenticeship. They were keen to: 
Fully prepare the apprentice for a career in the creative media industry. Spicerack offered a wide range of learning opportunities for Shannon by providing mentoring from different specialist people within the agency's creative team. This supported Shannon to develop a strong skill set and a wide range of knowledge in digital media. The agency also supported Shannon to create an active professional identity for herself on platforms such as LinkedIn. 

Go the extra mile by providing books and resources to support Shannon to develop an understanding of the wider industry and creative principles and practices. 

Provide Shannon with the opportunity to experience aspects of the apprenticeship which did not come under Spicerack's usual/regular work. Spicerack fully supported Shannon with this by creating in-house projects, which included briefs for a written web page article and a filmmaking project. 

Support Shannon to feel part of the team right from the start of the apprenticeship. The positive culture within the agency greatly supported Shannon to develop her individual confidence, self-esteem, and professional behaviours. 
Shannon
"I loved my time as an apprentice with Spicerack. I was able to enter the creative industry, receive a qualification, and gain work experience while being paid for it. I enjoyed the hands-on approach to learning, getting stuck into the work that Spicerack created."
What has Spicerack learned from being involved in apprenticeships?
Young people are a real asset to the team and culture.

Team members grow when given mentoring responsibilities.

Apprenticeships are a rewarding and meaningful way to engage with and support your local community.

Apprentices who become permanent team members are strongly aligned with your company's ways of working and values.