We've all experienced the stress of having too much work, in too little time. Whether you're a CEO or at the start of your career, this is, unfortunately, is a real truth for any role or industry. However, experiencing stress when it could be relieved by better processes, ownership and support should always be addressed. The most successful CEOs and Managers consistently remain vigilant to their teams' personal and work needs. This isn't just about team happiness (however that's always a good place to start), it's about finding consistency in the way you and the team communicate, proactively identifying and meeting the needs of customers, and taking ownership of the product development to encourage innovation.
How is this possible? Well, assigning or hiring a Product Owner will alleviate the pressure on other team members, whilst ensuring product development is relevant and delivered to an exceptionally high standard. 
But what exactly is the role of a Product Owner?
Well, within any multifaceted business there will always be a variety of information circulating from multiple sources, whether it's; feature requests from Customers, technology advancements from Directors, or time efficiencies from the Project Manager. It's the Product Owners responsibility to analyse this information, prioritise the relevant product development and communicate this plan with the wider business and stakeholders. 
Essentially, as the name suggests – A Product Owner is an individual who represents the product. 
Where do they fit into the business?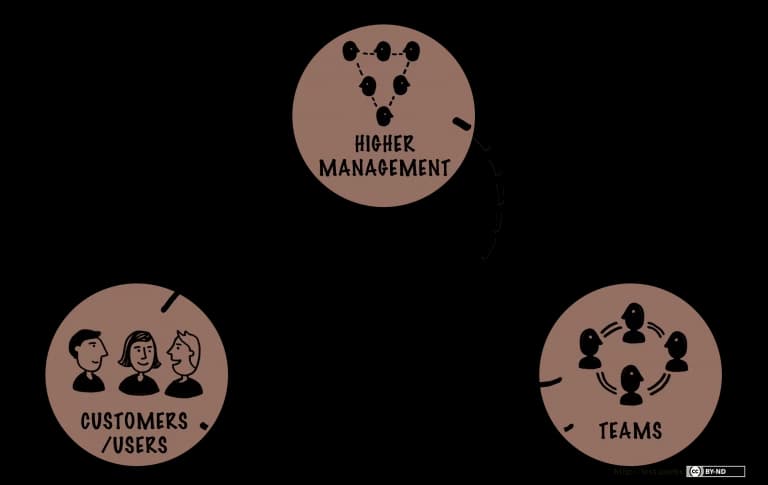 Image credit LeSS.works
Product Owners are an integral part of the company as they lead with specialist product knowledge, whilst working with Operational and Customer facing teams to identify essential development opportunities.
Working closely with
Higher Management

 

– to understand the business goals and ensure the vision is continually aligned

Customers / Account Managers

 

– to analyse customer feedback, identify improvements and prioritise customer feature requests  

Scrum Master / Project Manager

 

– to ensure product development milestones including sprints and releases are achieved within time and resource constraints

Teams internal and external

 

– to ensure work streams are clearly briefed and  planned, and meet high expectations
Why do businesses need a Product Owner?
Benefits for the team & individuals

Benefits overall

Benefits for the business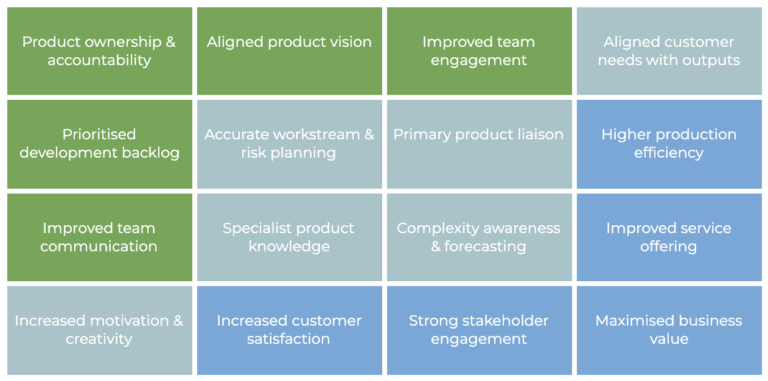 What should we look for in a Product Owner?
A successful Product Owner possesses the ability to juggle technical innovation, relationship building, and team management skills – aspects that often don't naturally come hand in hand. They are a special kind of breed. 
Key attributes
Thorough technical understanding & passion 

Strong relationship builder 

Ability to say NO where necessary 

Analytical and logical mind 

Adaptable to different seniority levels 

Problem solver

Detailed and clear planner 

Flexible positive attitude 
Qualifications
It takes more than just a qualification to become an epic Product Owner (i.e. experience, interpersonal skills, attitude, product knowledge, to name a few). However, there are a plethora of qualifications that provide essential bases for the role.
Scrum Alliance Certified Scrum Product Owner (CSPO)

Certified ScrumMaster (CSM)

Professional Scrum Product Owner (PSPO I)

PMI Agile Certified Practitioner (PMI-ACP)

Certified SAFe® Product Owner/Product Manager (POPM)
Things to watch out for
A Product Owner;
Is there to manage the product, not the people 

Is often on the same hierarchical level as the developers

Must have the ability to think short term and long term 

Must be able to communicate and share the vision with all levels of seniority i.e. team members through to stakeholders 
As a development partner for clients we love working with Product Owners who have a clear vision. We work collaboratively with Product Owners and internal teams to deliver against our clients' roadmaps and create excellent user experiences for their customers.